What are the steps in the adoption process?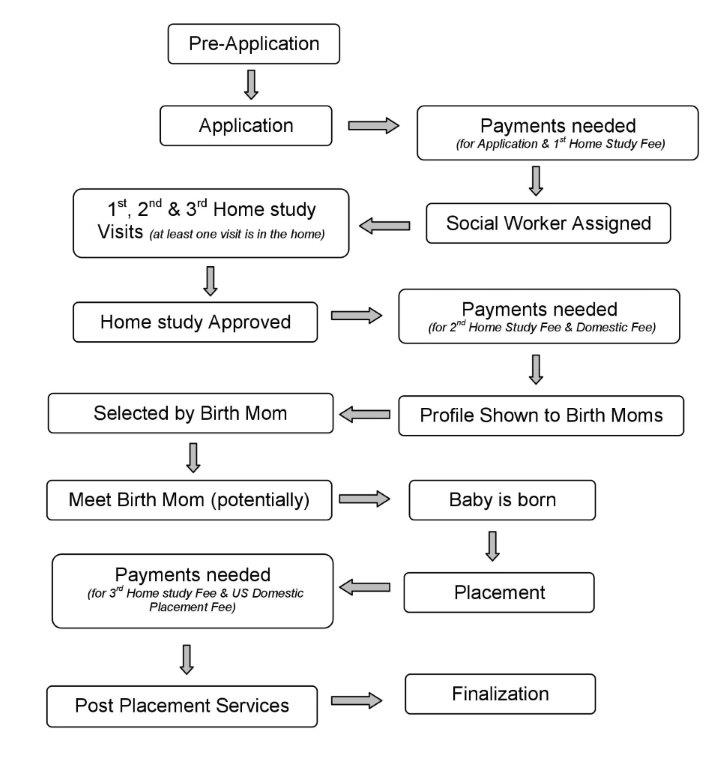 What is a home study?
A home study is a required step in the adoption process. A social worker will be assigned to your family to assess if your family is suitable for adoption. This process includes a minimum of three visits with a social worker and one of these visits must take place in your home.
How long does it take to adopt domestically?
The adoption process varies for every family. After your home study is completed your profile will be shown to birthmothers.
What states do you work in?
We are licensed to provide home studies  in Iowa, Minnesota and South Dakota. We are able to provide domestic home studies for families residing in these 3 states. If you live outside of our 3 state area you would only be eligible for our international programs.
Will you notify us when you are showing our profile books?
Typically, we will not notify you when we are showing your profile. We know that waiting to be selected as an adoptive family is an emotional experience and we do not want to add to that if you are not chosen. If there is a situation where we feel like we need more information from you, or we are uncertain if you would like your book shown, we will contact you to let you determine if your book is shown.
What countries outside of the United States do you work with?
We have international programs in Liberia, Nigeria, Sri Lanka, and Uganda.