There is no gallery selected or the gallery was deleted.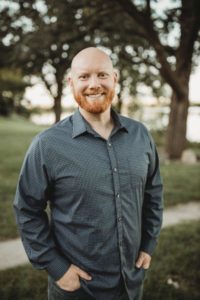 Fathers Information
Name
Age
Education
Occupation
Interests
Religion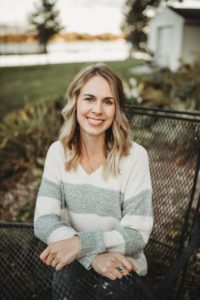 Mothers Information
Name
Age
Education
Occupation
Interests
Religion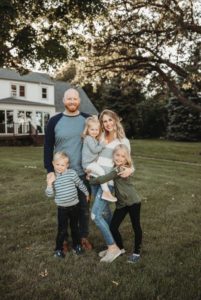 Family Information
Length of Marriage
Number of Children
Parenting Philosophy
Seeking: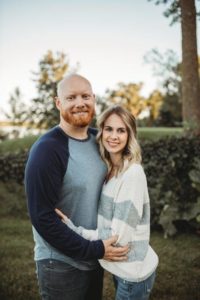 How We Met:
We met while working together at a waterpark the summer after we graduated from high school. Alex was a snack bar attendant and Toni was a lifeguard. It was Alex's sense of humor and Toni's sweetness that attracted us to one another. We were married at the ages of 20 and 21 and after 12 years together, we are still best friends.
About Alex (written by Toni):
Alex is one of the kindest people you will ever meet. People are naturally drawn to him because he makes whoever he is around feel important, understood, and included. As a dad, he is incredibly patient and goes with the flow. He is quick to give snuggles, make the kids laugh or bring them along on whatever he is doing. He loves God and is committed to volunteering at church and helping others. Alex is also an amazing guitar player. Just request a song and he'll be able to play almost anything by ear.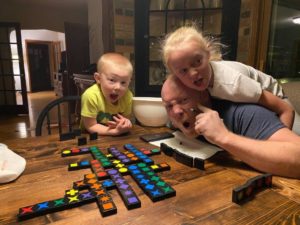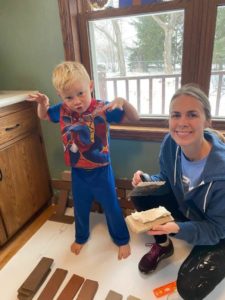 About Toni (written by Alex):
Toni is passionate, creative, and empathetic. What I love most about her is that she enjoys the small things; a cup of coffee on a Saturday morning, playing cards with the kids or family movie night. Toni does not like to be the center of attention, but she gives so much attention and love to the people close to her. She is a phenomenal mother and an amazing friend.
About Norah:
Norah (7) loves to create beauty whether it's drawing, painting, decorating, or gardening. She is great at planning and organizing. She loves family game nights. Norah has a big heart and a deep sense of empathy for others.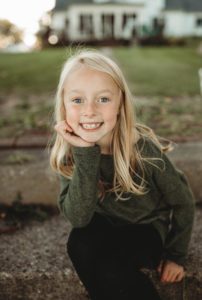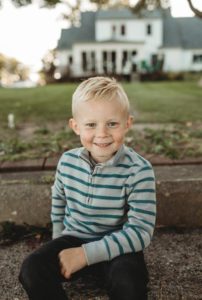 About Charlie:
Charlie (5) is the perfect blend of silly and sweet. He enjoys fishing, playing catch, practical jokes, and swimming with his cousins at the lake. He needs time alone to recharge so he likes to spend time outdoors making forts and exploring or doing puzzles.
About Liv:
Liv (3) is our "spicy" redhead. She is a daredevil and has no problem keeping up with her siblings. She jumps off the dock into the lake and goes tubing behind the boat. She has a great imagination and she'll talk your ear off. She loves babies and will be a great big sister!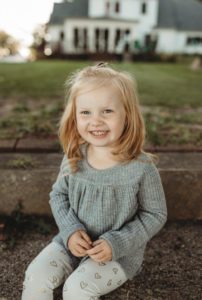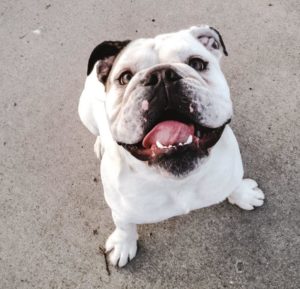 We have an English Bulldog named Gibson. He loves attention and is great with kids. He spends most of his day taking naps.
Our home is very special to us. It was Toni's grandmother's and she decided in high school that she wanted to own it someday. We've lived there for 9 years and have enjoyed making it our own. It is located on a lake with a big yard to run around. The neighborhood is very quiet, and we're lucky to have Toni's parents live a few houses down from us. Our church and elementary school are just a few miles away, as well as a bike trail.

We enjoy a slow-paced life and find joy in the simple things, like dance parties in our living room, board games, pizza on Friday nights and talking about the day's highs and lows at dinner. We go to church every Sunday and spend the rest of our free time doing normal things like grocery shopping and trips to Menards or Target. The kids love to tag along! In the summer, we like to ride bikes, go camping and play in the water. In the winter, we enjoy walks on the frozen lake, sledding and watching football.